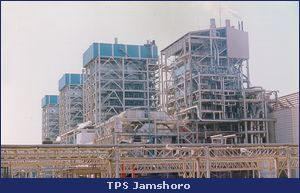 Location:  
Thermal Power Station Jamshoro is   situated in District Jamshoro (Sindh) 5 Km North-West of the village of Jamshoro on Indus High-way at the right bank of River Indus at Mohra Jabal, about 18 Km   from center of Hyderabad. The city of Karachi is approximately 150 Km South-West of Jamshoro connected with Super-Highway
Fuel (Gas / Furnace Oil) Supplies
Sui Southern Gas Company Ltd  (SSGCL) is in contract with WAPDA/JPCL to supply Gas for power generation at TPS Jamshoro. The daily Gas allocation is 62 MMCF with minimum guaranteed Gas supply of 53 MMCF.The Maximum requirement of Gas for three dual fired Units is about 140 MMCFD whereas average Gas requirement is 90 MMCFD.
Furnace Oil is arranged at competitive bidding by oil marketing companies on fortnightly basis from Karachi through tank lorries / tank wagons

.
Installed Capacity
This Power Station comprises of four units having total capacity of 850 MW. Unit No.1 250 MW Japan origin is Furnace oil fired, whereas Units 2,3 and 4 of 200 MW China Origin each are dual fired i.e. Gas/Furnace Oil.