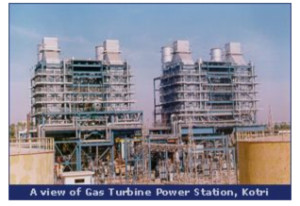 Location
The Gas Turbine Power Station Kotri is situated on the National Highway in Site Area, Kotri, 150 Km North of Karachi. Hyderabad city is about 12 Km upside from the Power Station.
Fuel (Gas / HSD) Supplies
All the Gas turbine units are designed to operate on dual fuel (Natural gas & HSD Oil). The gas is supplied by M/s Sui Southern Gas Company Limited through 12 inches pipe line to the Power station. A gas quota of 10 MMCFD is allocated for the Power station, which has been increased to 30 MMCFD 
subject to availability.
Installed Capacity
This Power Station is the first Gas turbine station built in the province of Sindh. It was constructed into four different phases having a total capacity of 174 MW. Two CEM France units of 15 MW each, Two Thomson Holland units of 25 MW each, Two Hitachi Japan units of 25 MW each and one Combined Cycle unit of 44 MW from Harbin Turbine Works China are installed